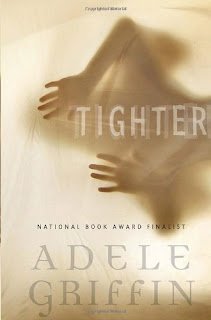 "When 17-year-old Jamie arrives on the idyllic New England island of Little Bly to work as a summer au pair, she is stunned to learn of the horror that precedes her. Seeking the truth surrounding a young couple's tragic deaths, Jamie discovers that she herself looks shockingly like the dead girl—and that she has a disturbing ability to sense the two ghosts. Why is Jamie's connection to the couple so intense? What really happened last summer at Little Bly? As the secrets of the house wrap tighter and tighter around her, Jamie must navigate the increasingly blurred divide between the worlds of the living and the dead." –goodreads
I picked up Tighter right before going to bed. I continued reading Tighter until it was over. I couldn't put it down! I had to see how the story would conclude. It's also only 216 pages, so I wasn't up all night finishing it or anything (although I probably would have been, had it been longer), but it was 216 pages of brain-twisting, mind-numbing, mystery and suspense. I had to know what Jamie was actually seeing, and what was real, what wasn't.
Jamie is not (or at least doesn't start out) a likable main character. She's depressed, she stole pills from her parents, and she doesn't generally seem very smart at all in the beginning. As the story goes on, especially toward the end, she's a bit more likable. But she's not the ONLY character. While Isa (the troubled girl Jamie is an au pair for) was withdrawn in her own world, in her imagination where she could hide, I found her really likable. Everything she said I felt she said in earnest. Part murder mystery, part thriller, and many other elements, Tighter had variety.
I loved the writing, it was poetic and nice, with some really raw emotion displayed through it. The conclusion was shocking and a burst of action at the end, I did NOT expect what Jamie ended up doing. I've never read any others of Adele Griffin's many novels, but I'll be sure to look them up now!
Extra note: The cover. I love it. Sets the creepy level for the book!