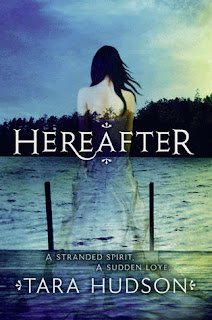 "Can there truly be love after death? Drifting in the dark waters of a mysterious river, the only thing Amelia knows for sure is that she's dead. With no recollection of her past life—or her actual death—she's trapped alone in a nightmarish existence. All of this changes when she tries to rescue a boy, Joshua, from drowning in her river. As a ghost, she can do nothing but will him to live. Yet in an unforgettable moment of connection, she helps him survive. Amelia and Joshua grow ever closer as they begin to uncover the strange circumstances of her death and the secrets of the dark river that held her captive for so long. But even while they struggle to keep their bond hidden from the living world, a frightening spirit named Eli is doing everything in his power to destroy their newfound happiness and drag Amelia back into the ghost world . . . Forever."-goodreads
Fun fact: When I started this book, I thought there were also mermaids involved. I guess it's because I looked at the cover oddly or something… I mean, it kind of looks like that doesn't it? The dress? The translucent looking girl (now that I get that she's a ghost that makes a lot more sense) looking out over the water? Yeah. Well, anyway, I think I enjoyed it a lot more because it's about ghosts because I've never been too big of a fan of mermaids but ghost stories are always creepy fascinating, so yay for that.
Hereafter brought the creepiness and the paranormal element, though not too heavily. At times it was super-creepy and then other times it wasn't really creepy at all which is peculiar seeing as you're reading the whole thing from the perspective of a ghost-girl. The mystery element was good, trying to solve the case of who Amelia was and why she died, and then the TRUE reason she died was even more complicated and twisted. I liked Amelia, sometimes for reasons I couldn't point out considering her logic was rather flawed at times. Joshua was great too– I mean, I had a hard time believing he'd be so okay with having a ghost-girlfriend but that's the case of fiction, the characters role with it.
Overall, I really liked the feeling of this book, and appreciated the creepy level. I do have a complaint though. It seemed, at times, that the story was dragging. It didn't seem slow, but it seemed like things could've been happening faster and by the end of the book it still felt like more should've happened. I look forward to the sequel and finding out more about Eli, and discovering more about that world.