Wednesday, February 2, 2011
Books to look forward too in 2011 – Cat
Yesterday, on
Twitter
I posted some titles of book releases coming later this year that I'm looking forward too- whether they're part of a series, or simply because they look interesting. I also know that a lot of book blogs post books they're waiting for to come out every Wednesday, but I like keeping this site to (mainly) reviews- and I'm not sure if I'd have enough books to cover every Wednesday- so I think one post here will be sufficient.
The Book Releases for 2011 (The ones I'm looking forward too)
This list is by no means all inclusive, as the year goes by and as I think about it I'll surely have more 🙂
(In order of Release Date)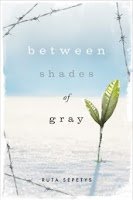 "Between Shades of Gray" by Ruta Sepetys
Release: March 22nd, 2011, Pre-Order on Amazon
Lina's your average 15-year-old Lithuanian girl in 1941, until the Soviet officers barge into her home one night and take her dad away. Lina and her family thus embark on a journey to the coldest parts of Siberia to work in under cruel conditions in a work-camp under Stalin's order. She finds hope in art and hopes that the message of her art can reach her father in prison camp- letting him know that she and her family are still alive.
This one looks good! I'm not even completely sure why I'm drawn to it- I like historical YA stuff, but it's not my top genre or anything. It just sounds like a good book!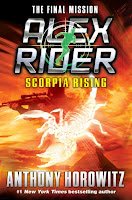 "Scorpia Rising: An Alex Rider Novel" by Anthony Horowitz
Release: March 22nd, 2011, Pre-Order on Amazon
Scorpia has been after Alex his whole life, from killing his parents, to trying to make him a traitor. Now they're back- trying to mess with the middle-east."
I've been reading the Alex Rider series, starting with "Stormbreaker" since… a while ago. I think I was probably nine when I started, haha. I really like this series, and look forward to what's going to be the 9th in the series. Honestly, I didn't like "Crocodile Tears" much, however, I really think this series has time to recover (unlike, say, Maximum Ride. Favorite series, turning to fail-whale-ness 🙁 )
"Divergent" by Veronica Roth
Release: May 3rd, 2011, Pre-Order on Amazon
In a dystopian society set in Chicago, people are divided into five factions: Candor (the honest), Dauntless (the brave), Abnegation (the self-less), Erudite (the intelligent), and Amity (the peaceful). All sixteen-year-olds are to chose their factions, that they will follow for the rest of their lives, on a certain day. Beatrice makes a decision that surprises everyone. She also harbors a secret, one that might save the one's she loves, or everyone else, while society begins to seemingly unravel- or it could destroy her.
I'm starting to really enjoy Dystopias. It's kind of alarming that it's becoming such a big trend in YA Fiction, but still, I really enjoy Dystopias. (Example: "Matched" by Ally Condie, "The Hunger Games" by Suzanne Collins) This book also looks impressive, the cover's cool, it sounds really exciting. There's also loads of reviews on the internet already for it from people that got their hands on ARCs of it and they all seem to think it's amazing. The author sounds really cool to- this is her first published book and she's only 23. She managed to write this almost 500-page book, in college people!!!


"CROSSED" by Ally Condie (sequel to "Matched")
Release: November 1st, 2011, Pre-Order on Amazon
No official summary for me to paraphrase yet, and the cover isn't final, but I can't wait for this book! I really loved "Matched" and can't wait to read more about Cassia and if she finds… well actually, I shouldn't say, because if you haven't read the amazing book that is "Matched" then I don't want to spoil it for you!
Anyway, can't wait for these books to come out, and as soon as I can, I'll read and review them for you guys, our readers!
Written with <3 by

Cat
at 11:05 AM